Rodrock Development honors talented students with scholarships​
Rodrock Development believes in the importance of families, and that commitment stretches far beyond the confines of its carefully designed communities. Sure, quiet cul-de-sacs, top school districts, and family-friendly activities are part and parcel of Rodrock Developments. But the team also nurtures a sense of community through its annual Rodrock Vision Scholarship. And this investment in young people resonates deeply with Rodrock Development residents. Just ask Brie Stingley, who earned the Rodrock Vision Scholarship in 2008. "It meant the world to me that an amazing development company like Rodrock, which developed the home my family lived in, would help provide financial means for me to obtain an amazing college education," Brie recalls. "I decided to go to a small, private (but expensive) college in Chicago. Rodrock Development helped provide me the means to do this." Brie had plans to be a child clinical psychologist and incredibly completed her Bachelor of Science in 3 years. "One of my professors suggested before applying to grad school I experience the real world to make sure that's what I truly wanted to do. I went to a college fair and was recruited by The Chicago Sun Times, and I fell into the media and advertising sales side of business. I graduated in 2011 and have been in that vertical since. There's so much psychology behind advertising, so I use my degree on a daily basis." After marrying in August, Brie and her husband put down roots in Kansas City. Brie now works for The Kansas City Star and McClatchy, all while coaching figure skating on the weekends. "I'm currently the local sales manager with a heavy focus on digital growth as well as Kansas City Spaces magazine. I love my job, and no day is the same!" Now in its 22nd year, the Rodrock Vision Scholarship is offered to graduating seniors who've demonstrated a commitment to their communities, the ability to set goals and achieve them, and the capacity to assume responsibility. The scholarship requires applicants be a member of the 2019 high-school graduating class, live within a Rodrock community, and have plans to continue their education beyond high school. Each was carefully chosen after completing a thorough application process that included written statements, character references, and personal interviews. This year, some $4,000 was awarded to deserving students. From varsity sports to religious groups, and student council to charity efforts, these students went above and beyond during their high-school career. ​
Rodrock Development wraps up Spring Parade of Homes with run of wins​
Rodrock Development has been taking part in the Spring Parade of Homes since 1983 and is immensely proud to have 36 years of consecutive wins. Four homes total—in Sundance Ridge, Riverstone, and Forest View—were praised for outstanding home design and architecture during this year's Parade. "The Parade energy has been great, especially after such a long, hard winter," says Brenda Sanders, President of Rodrock & Associates, Realtors®. "We had 10 communities showcasing 38 gorgeous models—from single-family homes to maintenance-provided villas. Arguably one of our largest Parades to date, we're so thankful to our builders for going above and beyond. They deserved these wins!" According to the Home Builders Association of Greater Kansas City, "The American Dream Awards recognize excellence in craftsmanship, selection of materials, and overall home construction and performance...The winners of this year's awards truly represent the best in the homebuilding industry." Two homes in the impressive Sundance Ridge community netted Gold: Ashner Construction's Artisan III and C&M Builder's Wellington. "The 1.5-story Artisan III boasts more than 5,075 square feet of the finest finished living space," says community manager Bruce Stout. "There are stunning accents throughout this Grand Hall design with its 2-story Great Room, exposed truss beams, and floor-to-ceiling stacked stone fireplace, complete with built-ins. And excitingly, Ashner Construction is offering a Spring Parade of Homes 'Builder Appreciation' special on a cost-saving walkout lower-level finish."​
Rodrock Development's Moms' Council arranges a bouquet of springtime fun​
Many developers invest in a bit of springtime planting and leave it at that. Not so at Rodrock Developments. The Rodrock team definitely ensures entry monuments bloom with brilliant buds, but the crew is also concerned with roots of a different sort. Rodrock wants its communities to blossom with camaraderie and friendship. That's why careful planning ensures these neighborhoods provide fertile ground for growing families. Thanks to the groundbreaking Rodrock Development Moms' Council, thriving Homeowners Associations, and sociable residents, each community is chockfull of opportunities for families to have fun, flourish, and establish lifelong friendships. A colorful bouquet of family-friendly activities are planned thanks to the Council, including pool-opening parties, pumpkin-carving contests, and holiday horse-drawn hayrides down decorated streets—complete with a visit from Santa, depending upon the community. These events help build a true sense of togetherness, which resonates deeply with families. "The Moms' Council is truly as asset that sets apart our communities," says Brenda Sanders, President of Rodrock & Associates, Realtors®. "The seasonal get-togethers help bring families together to build favorite memories and forge friendships. This is a huge gift, especially to those moving in from out of town. Already this spring our communities have enjoyed fun-filled Egg Hunts and a visit from the Easter Bunny."​
Rodrock Development unveils 38 of its finest homes for Spring Parade of Homes​
Thankfully, Kansas City has finally shaken off the long, harsh winter, and spring is in the air with Mother Nature showing off her finest hues. The housing industry is following suit with Kansas City's 57th annual Spring Parade of Homes. More than 400 new homes—spread throughout seven metropolitan-area counties—are primed and ready so attendees can see the latest in homebuilding. Starting April 27th through May 12th, these gorgeous abodes are open to the public for free tours from 11 a.m. to 6 p.m. daily. Thirty-eight homes, spread throughout 10 of Rodrock Development's most popular communities, are opening their doors for this spring's Parade, including Arbor Lake in Lenexa; Greens of Chapel Creek in Shawnee; Riverstone, Mission Ranch, and Sundance Ridge in Overland Park; and Grayson Place, Forest View, Stonebridge Meadows, Stonebridge Trails, and Stonebridge Park in Olathe. "We are so relieved to have the cold and ice behind us," says Brenda Sanders, president of Rodrock & Associates, Realtors®. "Everyone is more than ready to shake off the winter blahs! And the Spring Parade is a truly fantastic way to do that—all while being inspired by the latest in building and design. This is our favorite time of the year! And our builders have outdone themselves with innovative floor plans and the latest in decorating trends. With a variety of styles and price points (starting in the $350's), there's something for everyone." ​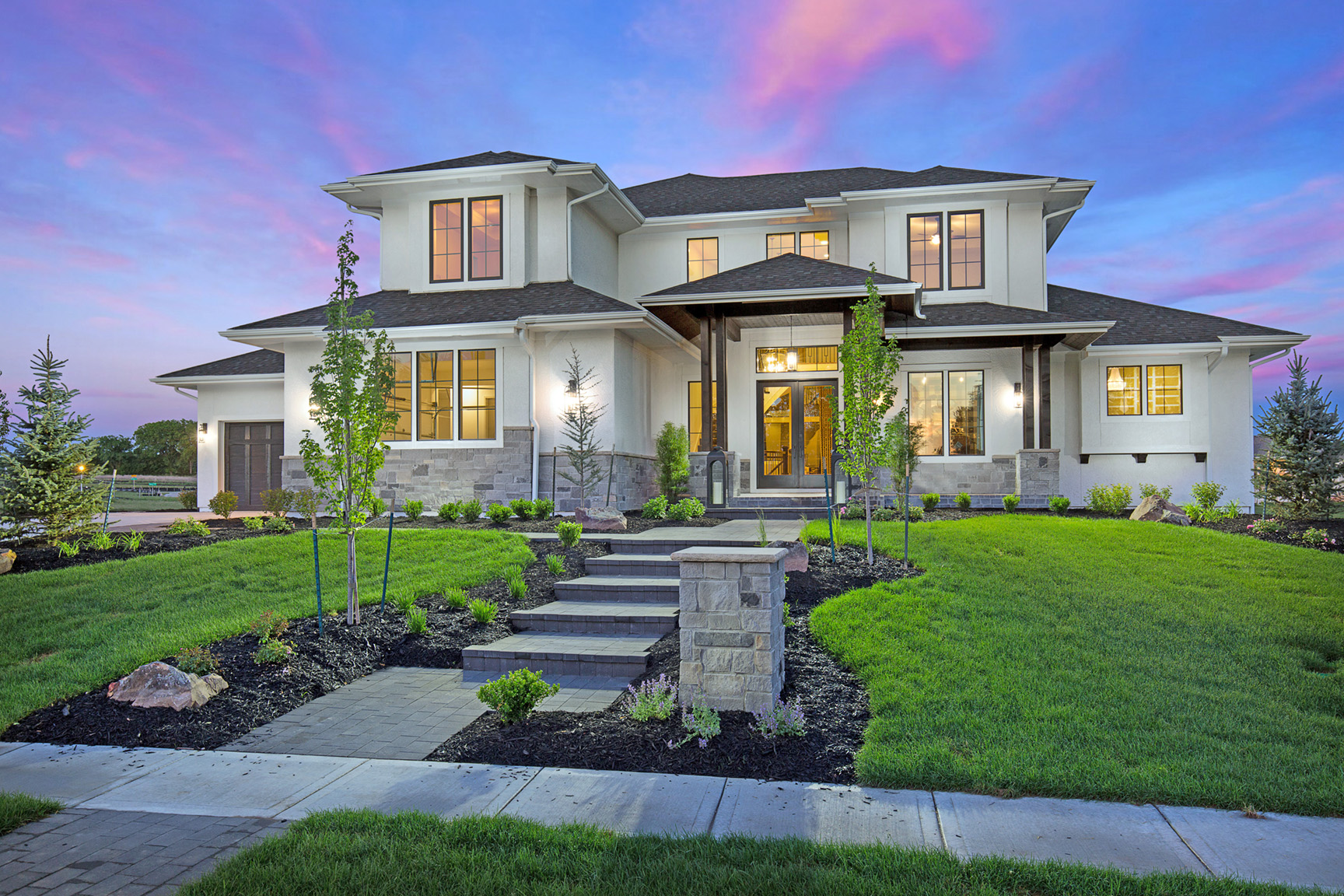 Rodrock Development closes out 2018 with strong sales and refreshing new inventory
What a year it's been! As Rodrock Development looks back on 2018, it's hard to know what was the true highlight. Was it a Fall Parade of Homes with 13 incredible wins? The unveiling of amazing new floor plans by our top builders? Or a December that put all other months to shame in terms of sales? "We're trying to catch our breaths as this year begins, but in the best way possible," says Brenda Sanders, President of Rodrock & Associates, Realtors®. "This December marked a substantial increase in sales—despite the fact winter months are typically slower. That momentum has continued, and we're gearing up for a very busy 2019." There's nothing like the revitalized energy the New Year provides, and not only did Rodrock communities see an uptick in contracts, the neighborhoods are also primed with inventory, thanks to a drier winter. The family-favorite Stonebridge community has an exciting selection of homes so buyers can settle in before summer fun begins. At Stonebridge Trail, 6 homes are ready, including the Landon by Rob Washam Homes, the Makenna by Gabriel Homes, the Yorkshire V by Chris George Homes, the Marietta III by D&M Homes, the Sovana by Doyle Construction, and the Kendleton by SAB Homes. "From ranch to reverse floor plans and outside entertaining areas to coveted cul-de-sac lots, we have it all!" says community manager Joan Jacquin. "Each is thoughtfully designed with open floor plans, ample natural light, and easy living space that just works." Stonebridge Meadows also offers a number of opportunities for immediate possession. "We have 30 homes featuring 12 unique floor plans," says community manager Mike Slaven. "We also have 2 former models immediately available. Both the Cypress II and the Grayson boast 4 bedrooms, fantastic upgrades, and a covered deck that will become a favorite spot during warmer weather!" At Stonebridge Park, sales were strong for 2018, leaving only 5 homes immediately available. Two of these include the Geneva and Emery Reverse—both of which are priced to sell with a reduction in cost of more than $26,000! The Emery Reverse is an award-winning plan on a fabulous walkout lot backing to green space, while the Geneva is an exciting new plan by KC Building & Design with a striking spiral staircase right as you enter the impressive 2-story Great Room. "At Forest View, we have 6 beautiful homes at the ready," says community manager Cyndi Clothier. "We have a Emery Reverse by James Engle Custom Homes, a Chesapeake II.3 by Hilmann Home Building, and a Prieb reverse, all on walkout lots, and some with ample trees. Each offers envy-inducing kitchens and master suites. Roeser Homes' 2-story Bailey is just 60 days from completion, while Crown Builders' Jacqueline sits on a private cul-de-sac lot." The Greens of Chapel Creek has been so popular only 1 home is ready for immediate possession; another 2 are under construction. The Chesapeake II.1 UP features 4 bedrooms, 3.5 baths, a magnificent kitchen, and spa-worthy master. Two Brentwoods by James III Homes are underway, so some lucky homebuyers can personalize all the finishes. Likewise, Arbor Woods has been so in demand that only a few homes remain available: the Yorkshire IV by Chris George Custom Homes and the Levi by Prieb Homes. Each offers hardwood floors, formal dining, a flex room on the main level, and a daylight lower level. Some 7 homes are ready within 30 days in Arbor Lake from quality builders Prieb Homes, Drees Built Homes, and Harding Homes. The majority of these abodes features 5 bedrooms, 3-car garages, impressive kitchens, and outdoor living space. "Each offers the extras homebuyers desire: walk-in closets, granite countertops, vaulted ceilings, and more," says community manager Debi Donner. Riverstone is ringing in the New Year with a variety of designs from the area's top builders. Be it the Sarasota Reverse by James Engle Custom Home with its lower-level rec room or the Chesapeake II.1 UP by Hilmann with its fabulous loft and second laundry upstairs, each offers upgrades to tempt families of all shapes and sizes. Meanwhile, BCI-Bowen Custom Homes' Windemere and KC Builders & Design's Geneva both boast impressive entries leading into Great Rooms anchored by gorgeous stone fireplaces.