Rodrock Development is starting off 2019 with strong sales and an impressive array of inventory. Among the selection is the Kensington by Starr Homes in Sundance Ridge's Big Sky. This gorgeous abode won for Distinctive Plan and Design in the Fall Parade of Homes. "This home offers a contemporary spin on classic styling that is bound to impress," says community manager Bob Sloan. "Clean, crisp lines, with dark and bright contrasting décor truly provide a one-of-a-kind feel."​
Rounding out the exciting inventory is Sundance, the crown jewel of Rodrock communities. "Experiencing a strong finish to 2018, Sundance Ridge has remarkable inventory, priced from the upper $400's to $1,450,000," says community manager Bruce Stout. "Several builders are offering substantial savings to keep the momentum going, and buyers who take advantage of these limited-time offers will enjoy considerable savings and immediate equity in their homes. We encourage anyone looking to purchase in the Blue Valley School District to take a short drive to Sundance Ridge, compare the value offered, and take in the scenery. They may just find that diamond they've been searching for—at an unbeatable price!"
For more information, visit Rodrock.com
Another move-in ready home is the Emrik III in Archer's Landing of Sundance Ridge. This gorgeous abode by Rob Washam Homes earned Second in Distinctive Plan and Design in the Fall Parade of Homes. "A spectacular 2-story Great Room in this build provides a voluminous feel with a stone-accented fireplace flanked by built-ins," says community manager Bruce Stout. "And the gourmet kitchen easily transitions from dinner prep area to the focal point during a night of entertainment."

Rodrock Development closes out 2018 with strong sales and refreshing new inventory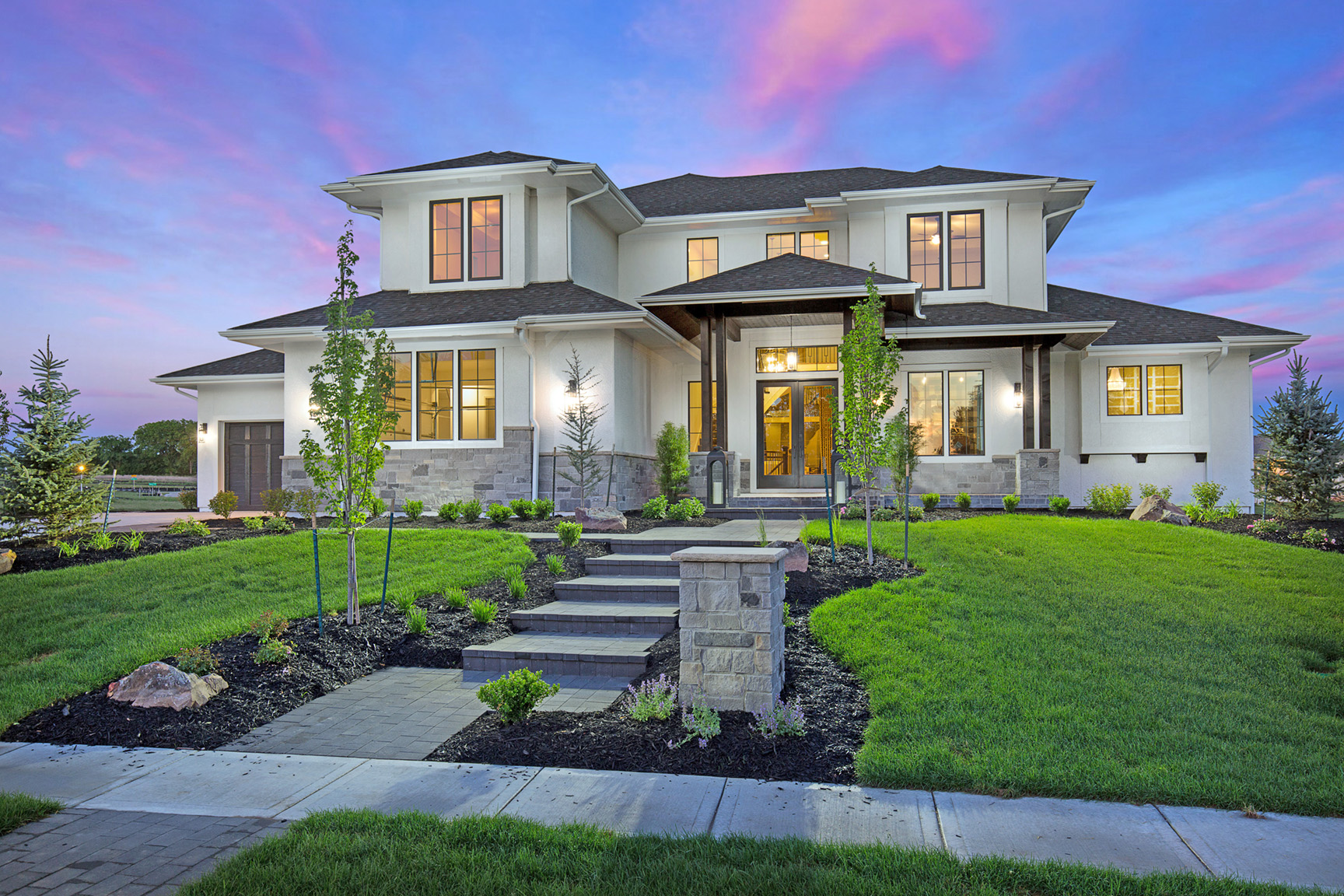 What a year it's been! As Rodrock Development looks back on 2018, it's hard to know what was the true highlight. Was it a Fall Parade of Homes with 13 incredible wins? The unveiling of amazing new floor plans by our top builders? Or a December that put all other months to shame in terms of sales?
"We're trying to catch our breaths as this year begins, but in the best way possible," says Brenda Sanders, President of Rodrock & Associates, Realtors®. "This December marked a substantial increase in sales—despite the fact winter months are typically slower. That momentum has continued, and we're gearing up for a very busy 2019."
There's nothing like the revitalized energy the New Year provides, and not only did Rodrock communities see an uptick in contracts, the neighborhoods are also primed with inventory, thanks to a drier winter.
The family-favorite Stonebridge community has an exciting selection of homes so buyers can settle in before summer fun begins. At Stonebridge Trail, 6 homes are ready, including the Landon by Rob Washam Homes, the Makenna by Gabriel Homes, the Yorkshire V by Chris George Homes, the Marietta III by D&M Homes, the Sovana by Doyle Construction, and the Kendleton by SAB Homes.
"From ranch to reverse floor plans and outside entertaining areas to coveted cul-de-sac lots, we have it all!" says community manager Joan Jacquin. "Each is thoughtfully designed with open floor plans, ample natural light, and easy living space that just works."
Stonebridge Meadows also offers a number of opportunities for immediate possession. "We have 30 homes featuring 12 unique floor plans," says community manager Mike Slaven. "We also have 2 former models immediately available. Both the Cypress II and the Grayson boast 4 bedrooms, fantastic upgrades, and a covered deck that will become a favorite spot during warmer weather!"
At Stonebridge Park, sales were strong for 2018, leaving only 5 homes immediately available. Two of these include the Geneva and Emery Reverse—both of which are priced to sell with a reduction in cost of more than $26,000! The Emery Reverse is an award-winning plan on a fabulous walkout lot backing to green space, while the Geneva is an exciting new plan by KC Building & Design with a striking spiral staircase right as you enter the impressive 2-story Great Room.
"At Forest View, we have 6 beautiful homes at the ready," says community manager Cyndi Clothier. "We have a Emery Reverse by James Engle Custom Homes, a Chesapeake II.3 by Hilmann Home Building, and a Prieb reverse, all on walkout lots, and some with ample trees. Each offers envy-inducing kitchens and master suites. Roeser Homes' 2-story Bailey is just 60 days from completion, while Crown Builders' Jacqueline sits on a private cul-de-sac lot."
The Greens of Chapel Creek has been so popular only 1 home is ready for immediate possession; another 2 are under construction. The Chesapeake II.1 UP features 4 bedrooms, 3.5 baths, a magnificent kitchen, and spa-worthy master. Two Brentwoods by James III Homes are underway, so some lucky homebuyers can personalize all the finishes.
Likewise, Arbor Woods has been so in demand that only a few homes remain available: the Yorkshire IV by Chris George Custom Homes and the Levi by Prieb Homes. Each offers hardwood floors, formal dining, a flex room on the main level, and a daylight lower level.
Some 7 homes are ready within 30 days in Arbor Lake from quality builders Prieb Homes, Drees Built Homes, and Harding Homes. The majority of these abodes features 5 bedrooms, 3-car garages, impressive kitchens, and outdoor living space. "Each offers the extras homebuyers desire: walk-in closets, granite countertops, vaulted ceilings, and more," says community manager Debi Donner.
Riverstone is ringing in the New Year with a variety of designs from the area's top builders. Be it the Sarasota Reverse by James Engle Custom Home with its lower-level rec room or the Chesapeake II.1 UP by Hilmann with its fabulous loft and second laundry upstairs, each offers upgrades to tempt families of all shapes and sizes. Meanwhile, BCI-Bowen Custom Homes' Windemere and KC Builders & Design's Geneva both boast impressive entries leading into Great Rooms anchored by gorgeous stone fireplaces.